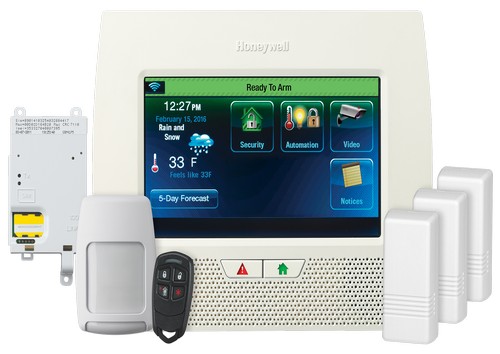 SIMPLIFY. AUTOMATE. PROTECT.
Home alarm systems have become more than just intrusion protection. With the intergration of z-wave automation you can now control lights, locks, cameras, thermostats, alarm and more all from your smartphone or touch screen keypad. Additionally you can get daily weather updates on the keypad helping you better plan your day.

Alarm System Products:

Keyfobs
Keyfobs are similar to a remote car starter for your alarm system. They go on your keyring and allow you to arm and disarm the alarm remotely within several hundred feet of the premise. This feature is convenient if you're carrying children or groceries, since you are able to disarm the alarm before you even get out of your car.
Keyfobs are also convenient if you are away and have someone looking after your pet or just checking on your home. You can leave the remote with your friend or neighbour so they don't need your alarm code.
Don't worry! Every remote has a serial number and is specifically programmed to your alarm. If you lose your remote, we can simply remove if from programming, decommissioning it immediately!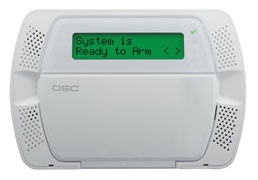 Low temperature sensors
Suppose you head south for a vacation in the dead of winter. If your heating system fails while you're away, your water pipes could freeze and burst, causing water damage in your home. A monitored low-temperature sensor would detect the heat loss before it's too late.
In many cases, the low temperature sensor is built into your keypad and simply needs to be programmed. If this is the case there is no additional charge for this service.
If you have an older alarm already installed you can connect a low temperature sensor to the control panel and you'll have the peace of mind to go on your vacation without worry. Simply call the monitoring station and let them know the name and phone number of the person caring for your home while you are away!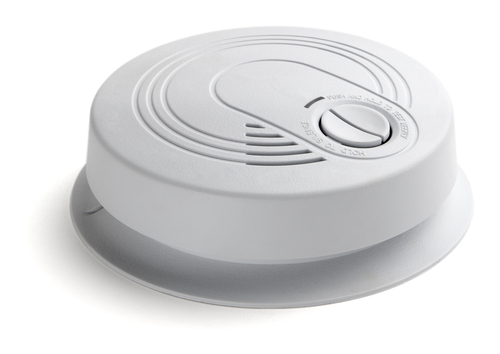 Smoke detectors
Smoke detectors are a must have on a monitored alarm system. The smoke detector is monitored 24 hours a day, even if your alarm is not armed. If a fire breaks out while you are away, the monitoring station will dispatch the fire department. This could potentially save the life of a family member or pet.
The smoke detectors we use are photoelectric, which means they will alarm faster in the event of a smouldering fire, but not go off every time you make toast!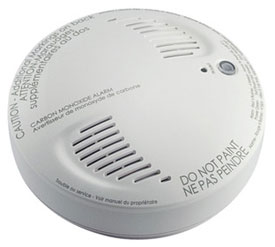 Carbon monoxide monitors
Carbon Monoxide Gas is colorless, tasteless, and odorless but deadly! Carbon monoxide (CO) is impossible to detect without a warning device. Some common symptoms of carbon monoxide are headaches, dizziness, nausea and light-headedness.
A monitored carbon monoxide detector will detect the deadly odorless gas before it's too late. An unmonitored carbon monoxide detector may not be enough to wake you if you are asleep. Likewise, if you are not home, your pet will certainly hear the detector but will be unable to do anything about it!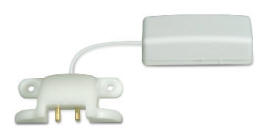 Wireless flood sensors
Wireless flood sensors are as well a great addition to any monitored alarm system. Appliances such as washing machine, dishwasher, Hot water tank, age with time and many times a hot water tank will leak before the home owner even knows it's getting weak. A flood sensor will alert you in the early stages before the damage is extensive.
Sump pump sensors are also available. When the water rises to a certain level, the alarm will go off, alerting you that your pump has quit working.
Two-way voice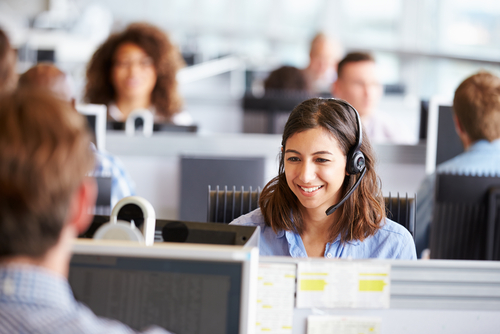 Two - Way Voice is new technology in alarm monitoring. The Two - Way voice system allows for live, hands-free communication with one of our monitoring center operators right from your keypad. Two-way voice verification is an essential component of modern alarm system technology
Through a hands-free, two-way speaker system, you can talk to the monitoring center in the event of an emergency situation. Since you're the only one who can activate the system, your privacy is maintained and you're in charge. Two-way alarm verification can't happen unless you choose to initiate the system or the alarm is triggered.
In the event that you press the POLICE panic button, the monitoring station will listen only to see if they can hear and record the emergency.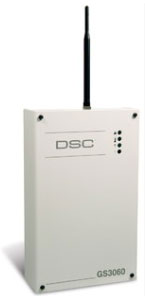 GSM communicator
Don't have a landline anymore? No problem. The GSM communicator will communicate your alarm signals to the monitoring station over the cellular network.
The GSM can be used as the only communicator or just as a back up in case your phone line gets cut. It is extremely reliable and every bit as fast as traditional landlines.
"Your monitoring fees will increase by $12 per month as you will be paying extra for the cellular service."